India Home Health Care partners with Niramai Health Analytix, an AI-based breast cancer screening company to offer contact-less, privacy-sensitive, breast cancer screening services to customers.
Breast health screening now in the comfort of your home
About Niramai:
NIRAMAI Health Analytix is the most awarded startup and a deep-tech healthcare company offering a novel Artificial Intelligence-based solution for screening and diagnostics. Thermalytix TM, the company's flagship product is a radiation-free, non-touch, highly accurate, breast cancer screening test  for women of all age groups.
Screened 30,000+ women till date! 
Niramai works with reputed hospitals and corporates to bring the only privacy-aware solution to your home
NIRAMAI's PREMIUM HOME SCREENING FEATURES: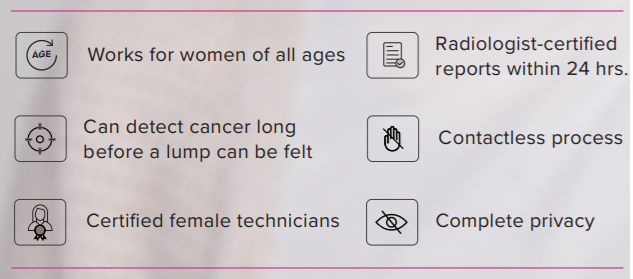 Introduction:
Breast Cancer is the leading type of cancer in women. According to WHO, one in every 8 women in the world is at the risk of developing a breast abnormality in her life time. It is well-established that early diagnosis is very critical in saving a life of a cancer patient. NIRAMAI have developed a new cancer screening software that uses machine intelligence over thermography images to enable a low cost, easy to use, portable solution and requires minimal human supervision. Niramai's solution can detect cancer at a much earlier stage than traditional diagnostic methods and self-examination and can therefore improve survival rates. Niramai's method of breast cancer screening can detect tumors 5 times smaller than what clinical exam can detect, is non-contact, painless and free of any radiation, apart from being low-cost, and universally accessible. With this solution, women of all age groups can undergo frequent screening without any side-effects.
What we offer:
Breast Health Checkup
No Touch
No See
No Pain
No Radiation
A breast health screening solution that works for women of all ages
For more details on Home Screening, please contact  7676433333, info@ihhc.in